Buying a Home – 6 Ways to Financially Recover Afterward – The real estate market has undoubtedly seen unprecedented twists over the past couple of years. Whether you upsized or downsized… found your next home or your dream home… the financial considerations of owning a home don't end when you sign on the dotted line. Small preparations now can mean minimizing financial hardships in the future.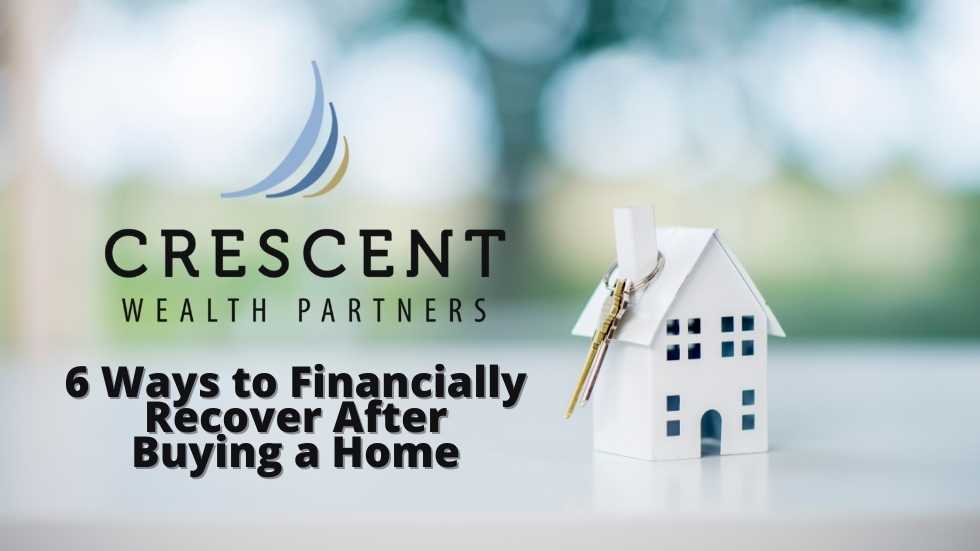 Incorporate these 6 financial changes after buying a home…
Restore Emergency Funds: Homeownership often entails costly emergency repairs: roof, HVAC, plumbing, or appliance. If closing costs and down payments dipped into your emergency funds or savings, strive to save 6-9 months of monthly expenses in reserves to cover unexpected costs or repairs.
Reevaluate Your Tax Plan: First-time home buyer? Work from home? Homeownership may provide certain itemized tax deductions, including mortgage interest and property taxes. A financial planner can help you determine if itemizing your taxes is advantageous for your financial goals.
Adapt Your Budget: Mortgage payments, homeowners' insurance, property taxes, utilities, and rebuilding emergency reserves may require adjustments to your overall budget to maintain living within your income means and saving towards your financial goals.
Determine Insurance Needs: In addition to homeowners' insurance, changes in life, disability, and health insurance policies may be necessary to ensure coverage and protection in the case of unexpected illness or financial hardship.
Pay Attention to Payments: Acquiring new debt with a mortgage often causes an initial drop in credit score. Making payments (especially mortgage payments) on time of at least minimum balances will help credit scores recover faster.
Review Financial Goals: Schedule an appointment with your financial advisor to ensure you maintain your path to long-term financial goals- even with new and changing expenses.
New homeownership is an exciting, albeit stressful, time. Planning and accommodating current and future financial changes minimize stress. Ensure you're on the right track and build confidence with trusted financial advice.
Buying a Home? Start Planning with Crescent Wealth Partners
Crescent Wealth Partners is here to guide and strategize the best financial plans to meet your long- and short-term goals, especially after purchasing a new home. Our team of experts is dedicated to minimizing your financial stress and maximizing your life-long happiness.
Contact Crescent Wealth Partners to schedule a time to discuss your financial blueprint to map where you are today to where you want to be in the future.
Call us today at 941.923.3663 and visit us at cwpadvisorygroup.com for additional information and to meet our team of financial advisors ready to assist your planning goals.
Want to learn more about this topic? Read 5 Modifications to Make to Your Finances After Buying a Home
Follow us on social media:
Facebook – https://www.facebook.com/Crescentwealthpartners
LinkedIn – https://www.linkedin.com/company/crescent-wealth-partners/mycompany/
Brian Grogan LinkedIn – https://www.linkedin.com/in/briangrogancrpc/
Brent Hillerich LinkedIn – https://www.linkedin.com/in/brenthillerich/