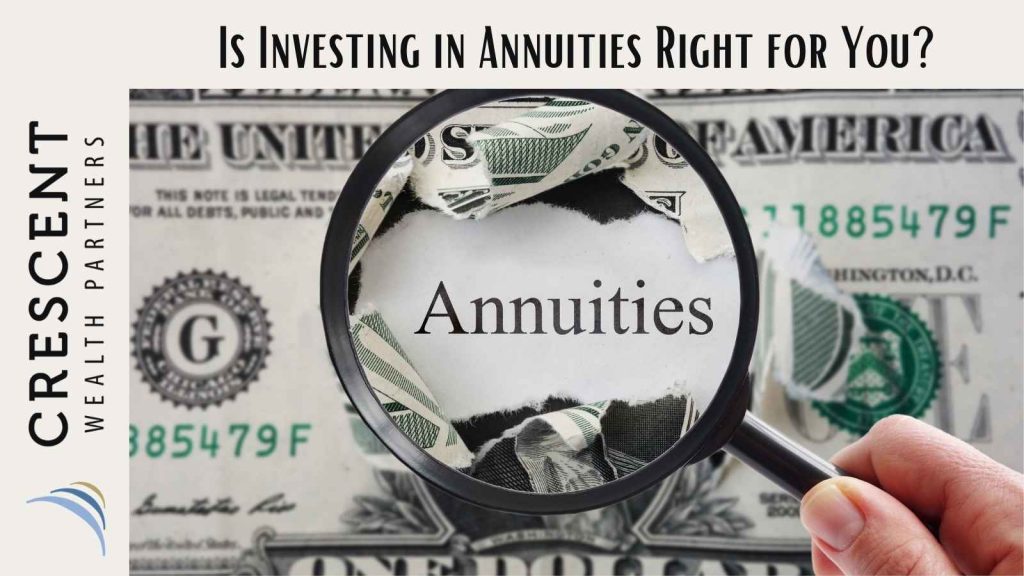 What are annuities?
Is Investing in Annuities Right for You? – As defined by the Securities and Exchange Commission (SEC), an annuity is "A contract between you and an insurance company that requires the insurer to make payments to you, either immediately or in the future."
Annuities are popular when planning for retirement savings to meet a variety of needs and goals. You buy an annuity with either a single payment or series of payments; in return, you receive a lump sum payout or a series of payments over time.
The following is a brief overview to help you get started with understanding annuities. See more detailed information from the Securities and Exchange Commission here.
6 Reasons to Consider an Annuity
Lifetime Income – Periodic payments complement other retirement sources of income.
Income Options – There are various income payment options to mesh with your lifestyle.
Tax-deferred Growth – You pay no taxes on annuity investment gains until you withdraw money.
Annuitization – You may assign the entire account/contract value to a financial institution and receive income for life.
Guaranteed Minimum Withdrawal/Income Benefits – You can ask for minimum withdrawal benefits if you do not want to annuitize.
Death Benefits – Your beneficiary may be eligible for payments in case of your death.
3 Main Types of Annuities
Fixed – Your payment is fixed, and the insurance company promises a minimum interest rate and a fixed amount of periodic payments. However, you have no control over how the insurance company invests your funds.
Variable – You make a payment, but you decide where to invest your money. Your investment choices determine your retirement income.
Indexed – Your payment contains a promised return based on the stock market index.
Additional Information
Annuities are typically not suited for short-term financial goals because they contain surrender charges for early withdrawals.
Also, the fees are typically higher for annuities than for other investment products, so make sure to check, compare, and clarify what you are paying for.
Always Talk to An Advisor First
There is so much more to know about investing in annuities or any investment opportunities that will best meet your needs.
Crescent Wealth will partner with you to plan and manage your investments and retirement savings, including which annuity plan is right for you.
We provide an analysis of your financial reality, offer personalized solutions, and implement a plan to achieve your goals.
Contact Crescent Wealth Partners today to schedule an appointment at one of our four convenient locations.
Follow us on Facebook: https://www.facebook.com/Crescentwealthpartners